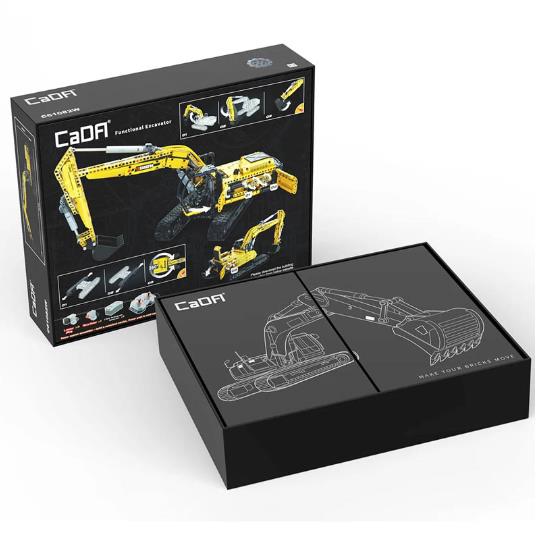 Item NO.:C61082W

Description: 1:20 JCB-JS370 Fully Functional Excavator Vehicle Model C61082W 1702Pcs Engineering Digger Vehicle Building Blocks Set
Product size: 55.00X19.00X32.40 cm
Color box size: 46X10.5X38 cm
QTY/CTN: 6 PCS
Packing: Color Box
GW./NW.: .00/19.80 Kgs
Meas: 66.50X39.20X48.40 cm

Buliding block QTY:1702pcs

Features:

1. Based on jCB-JS370 excavator prototype design, 1:20 ratio, detail reduction.

2. High restore the appearance of the excavator, digging arm, cab, compressor room, and other details.

3. Extended products based on Cada engineering series.

Function:

Manual: 1. Manually open the warehouse door (a total of 6 warehouse doors can be opened and closed).

2. The excavator comes with 3 control knobs and 1 function switch to switch the control of the digging arm.

3.knobs respectively control the lifting, retracting and swinging action of the digging arm; switch the chassis control: three knobs respectively control the forward and backward, left and right rotation of the excavator and 360 rotation of the platform.

Optional: Can update with remote control function.

The product is not equipped with power module,players can buy the following power module,converted into a remote control version of the car.

Order battery: JV1010/7.4V lithium battery box *1;(battery included)

Remote control:JV8011 remote control/1.5V AA battery (battery not included)

Motor:JV5028 block square L motor*3,JV5043 building block mini motor 1

Remote control function:

Can be equipped with CaDA power module, remote control function switch, remote control arm action and chassis control, realize the excavator remote control full function.