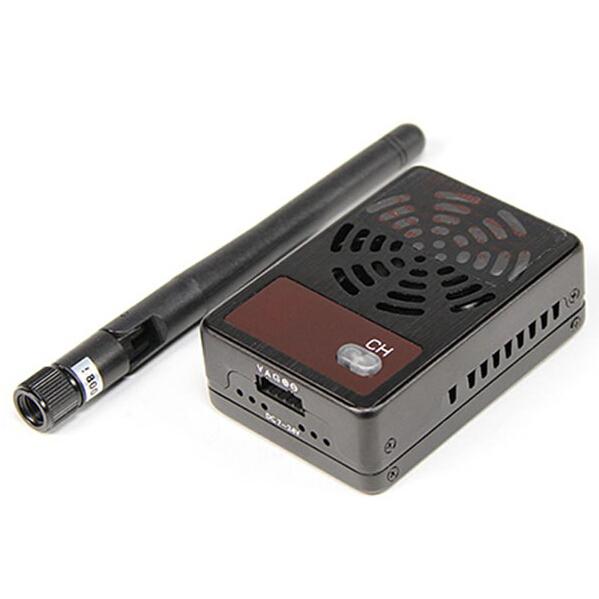 Item NO.:TS5833 Boscam FPV TS5833 5.8G 2000mW AV Transmitter

Specifications:
Transmitting Frequency: 5645-5945MHz, 8 Channels
Transmitting Power: 2000mW (33dB +-1dB) of certified output power
Cooling System: whole body heat sink and cooling fan
Channel Switching: channel button and channel display
Antenna: RP-SMA female 50 ohm connector
Power On Working: Plug and Play
Input Voltage: 7-24V DC
Battery: 2-6 cells
Size: 62mm*42mm*20mm (L*W*H)
Weight: 37g

Channel Number:
Channel 1 ----5705 MHz
Channel 2 ----5685 MHz
Channel 3----5665 MHz
Channel 4----5645 MHz
Channel 5----5885 MHz
Channel 6----5905 MHz
Channel 7----5925 MHz
Channel 8----5945 MHz

Feature:
That's right 2000mW!!! If you're the type that goes big or goes home (not compensating for other shortcomings of course) then this is the end all when it comes to video transmitting POWER!Boscam arguably makes some of the best FPV gear, and now they have the nicest and most powerful 5.8GHz transmitter we have ever seen. The Thunderbolt has a precision machined housing that plays double duty to keep the transmitter cool with integrated heat sink and internal fan. A clear LCD for channel selection and SMA-RP style antenna connection. The Thunderbolt comes with a ready to use 5 pin cable for power, video and audio connections, and clear instructions with a Duck style Omni antenna. If you have an application that need a bit more range, Boscam quality and reputation are an easy choice.*For best range and video link stability we recommend using the Boscam 5.8GHz Cloud Spirit circular-polarized Antenna Set (SMA-RP) available below in the accessories tab.

Package Including:
1 x 5.8G 2000mW 8 Channels Wireless AV Transmitter(with antenna)
1 x 5pin multi function cable
1 x Power line
1 x Transfer cable

Note: Please check with your local authorities regarding the operation of this equipment before you purchase. Regulations on power output, usable frequencies and licenses to operate vary from region to region.